Choosing a countertop can be just as difficult as choosing your cabinetry! Before splurging on such a big update, take some time to read a little more about the material. Consider your lifestyle, budget and how long you need them to last.
The Top 4 Most Popular Countertop Materials
Quartz
Marble
Granite
Laminate
All of these are popular for a reason, let's dive into the pros and cons!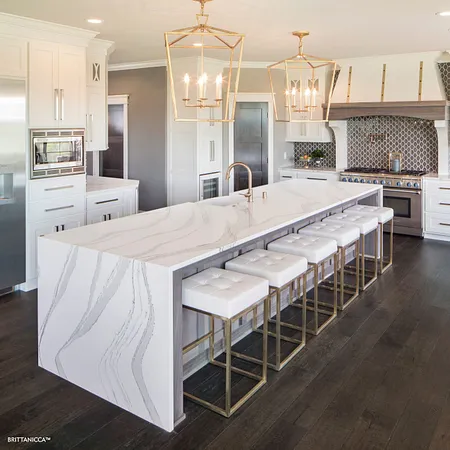 Quartz – Quartz is a man made engineered surface largely composed of natural quartz and granite particles which makes up about 90% of the counter material. This substance is then paired with resins and polymers (as well as pigments, in some cases) to create a molded surface.
Pros
– Easy maintenance with no sealing required
– Uniform slabs with no imperfections
– Can be custom fabricated to any size and shape
– Resistant to stains
– Impervious to acid
– Naturally antimicrobial
Cons
– Very heavy in weight
– edges and corners can chip easily and must be repaired professionally
– noticeable seams in joined areas
– not as heat resistant as granite
Budget Type: High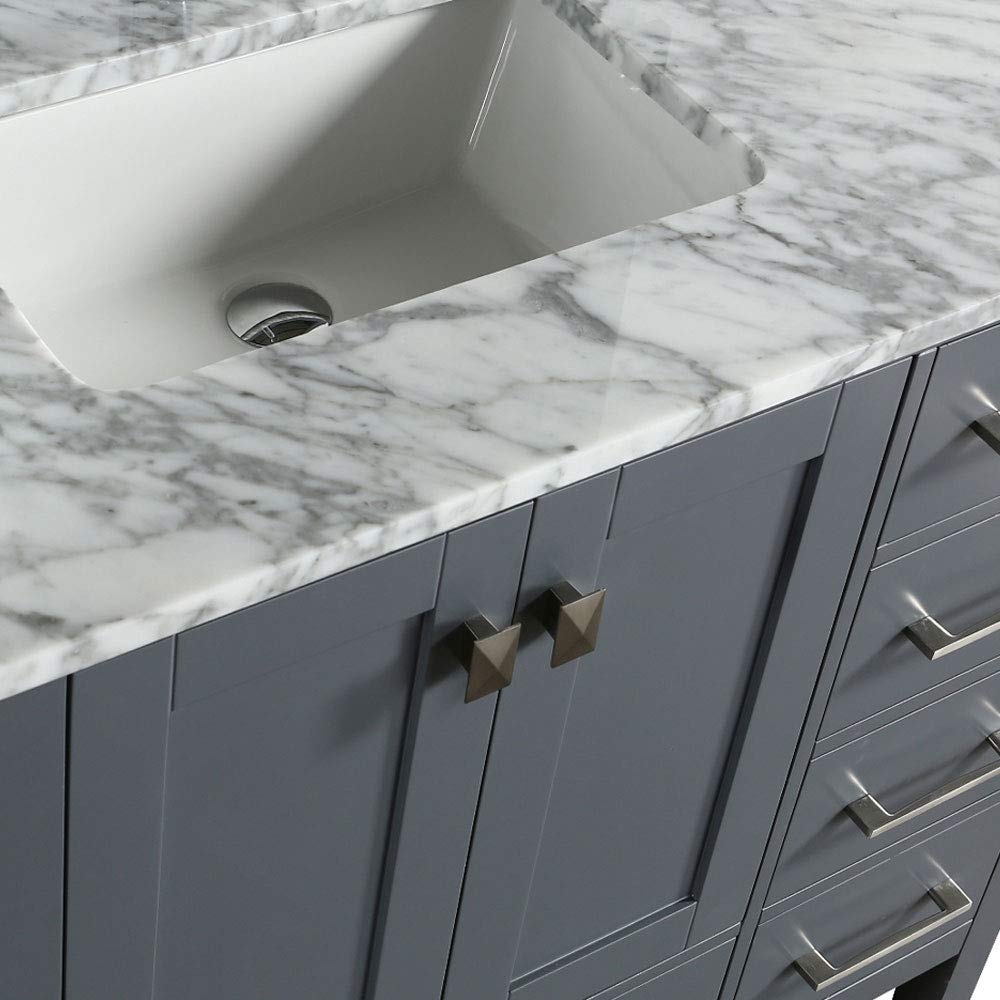 Marble – A stunning natural stone that is entirely unique to each home.
Pros
– Waterproof and heatproof
– Adds real estate value to home
– Unique veining in each slab
– Will not yellow due to heat
Cons
– Can be scratched easily and difficult to repair
– Porous stone which stains easily and difficult to remove
– Needs to be sealed every few years
– Not sturdy enough for kitchens; heavy pots may chip or break off the slab
Budget Type: High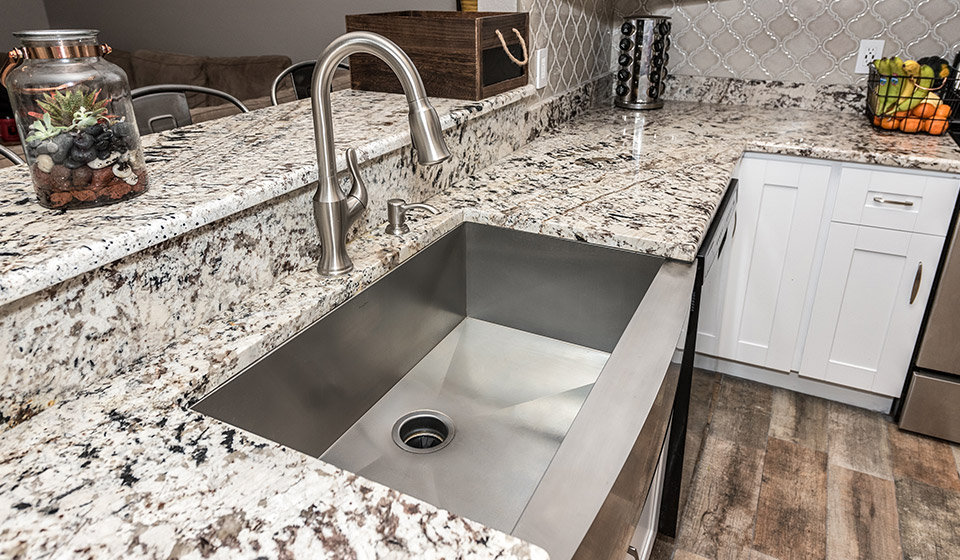 Granite – A purely natural stone that is sourced directly from stone quarries, defined by its elegance and timeless luxurious appearance.
Pros
– Can withstand very high heat temperatures
– Strong and durable
– Close to maintenance free (only needs to be treated with sealants)
– Resistant to cuts, scratches and stains (when cleaned quickly)
Cons
– Imperfections present due to the nature of natural stone
– Prone to cracks if stressed or not installed correctly
– Requires sealing to avoid permanent stains
– If you cut on the surface it may dull your knife
– Edges and corners can chip and must be professionally repaired or buffed
Budget Type: Mid to high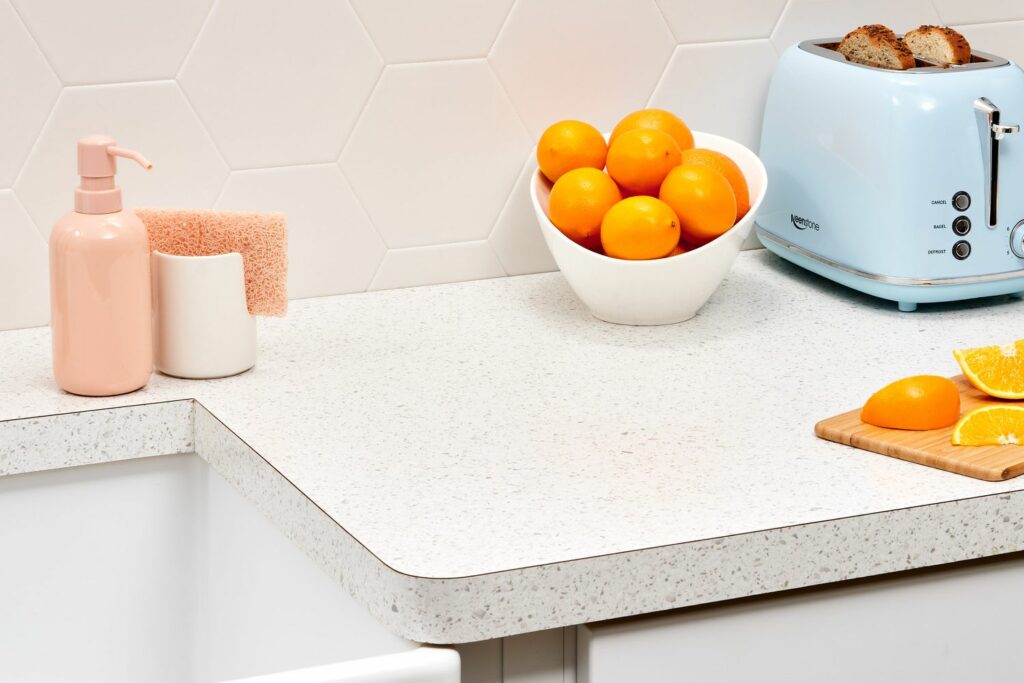 Laminate – Plastic coated synthetics made with laminate sheets and particleboard (MDF) core.
Pros
– Easy and low maintenance
– Thousands of pattern options available
– Durable against heat and stains
– One of the cheapest options available for countertops
Cons
– Cutting directly on it permanently damages the surface
– May not add any perceived value to home
– Any damage is almost impossible to repair
Budget Type: Low-mid